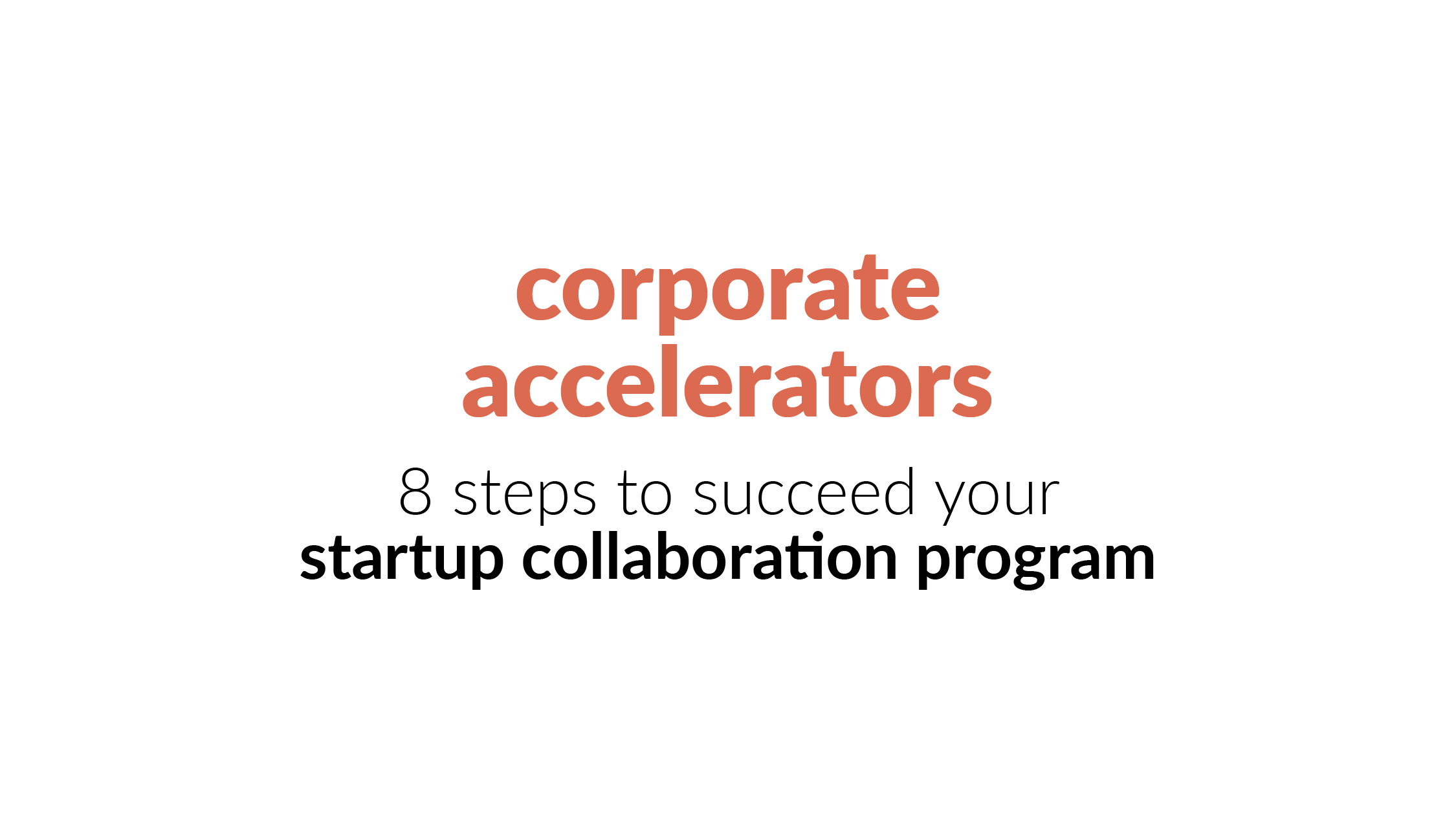 Corporate Accelerators – how to leverage the most out of your startup collaboration programs in 8 steps
Why innovate through collaboration?
Collaboration between technology start-ups and large corporates is key to foster innovation in Europe1. When done correctly, it can benefit both sides greatly:
Startups enjoy insights from experts, a touchpoint to a wide customer base and access to a variety of resources, as well as specialized equipment (such as testing facilities). Corporates, on the other hand, can gain financial benefits, influence and insights by leveraging2:
disruptive ideas, 

organizational agility,

the willingness to take risk,

and aspirations to rapid growth,
However, only 20%-40% of startup collaborations are successful3. In the following article we will share what we at acccoi have learned about collaborations and success in our years of experience.
Why corporate accelerator?
Corporate accelerators are company-supported programs of limited duration that aim to tackle strategic needs through the creation of common solutions. The programs are built to support cohorts of startups via mentoring, education with the available company-specific resources.
When comparing to other open innovation methodologies – one off's, incubators and acquisitions – the implementation of a corporate accelerator is a strategy that is strongest in outcome with minimal risks associated to it.4. This is because corporate accelerators offer corporates the possibility of building a strong partnership foundation before entering into risky equity investments:
building an innovation network

enjoying organizational transformation through increased dynamic capabilities,

and experiencing a steep learning curve about working and partnering with startups.
How to make your corporate accelerator successful?
Decide whether a corporate accelerator is the right format for you, by asking yourself following questions:
What are your long-term strategic goals?

What is the current framework of activities supporting your innovation strategy? How are your innovation activities supporting the overall strategy?


Can you commit to a corporate accelerator for at least 18 weeks? Can you designate the needed resources – a PMO team, POC fund and commitment from business units?
After that, it is time to set up the framework of your program, by deciding the purpose, scope and targets of your collaboration program. We have defined three different programs to suit different needs. As soon as the decision is set upon those questions, you can start with the detailed planning of your corporate accelerator program.
We have created a white paper that provides you with the basic knowledge and tools for setting up your corporate accelerator.
The download is available for free:
References:
Altendorf, M., Bertolo, S., Brack, A., Fricke, J.R., et al. (2018) Collaboration between Start-ups and Corporates: A Practical Guide for Mutual Understanding.

Weiblen, T. & Chesbrough, H.W. (2015) Engaging with Startups to Enhance Corporate Innovation. California Management Review. 57 (2)

Steiber, A. & Alänge, S. (2020) Corporate-startup collaboration: effects on large firms' business transformation. European Journal of Innovation Management. [Online] Available from: doi:10.1108/EJIM-10-2019-0312.

Onetti, A. (2019) Turning open innovation into practice: trends in European corporates. Journal of Business Strategy. [Online] Available from: doi:10.1108/JBS-07-2019-0138.
Related Posts