Startup Collaboration – making it work in the long term.
Startups are a great source of external knowledge that corporates can widely benefit from. Mostly young enterprises bring new, fresh, and ground-breaking ideas to the table pushing the barriers of innovation and reshaping our understanding of existing markets. Corporates as such, value startups as a key piece for their innovation puzzle, it is estimated that 98% of European companies will have implemented some sort of innovation collaboration program with startups in the next two years.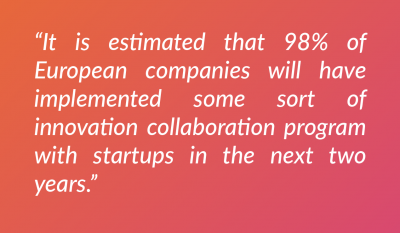 Even though corporates are willing to work hands on with young enterprises, the reality is that only half of the collaboration programs are successful. Most of the times companies struggle to understand the culture and working methods of startups and vice versa, leading to frustration and failure. This is a recurring issue that causes great pain for innovation managers! To avoid these mistakes, we at acccoi have put together a list of the most common triggers for startup-corporate collaboration programs: 
Taking a step back during the set-up phase and examining each of the above-mentioned issues can help boost the success rate of the program. Making sure that both sides are aligned is key and should be a priority when implementing a startup collaboration program. Although some of the topics are straight forward, we underestimate the negative impact they have in the long term if they are not dealt with at an early stage.
For further information please download our free guide.
The download is available for free:
Related Posts